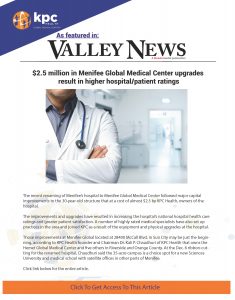 The recent renaming of Menifee's hospital to Menifee Global Medical Center followed major capital improvements to the 30-year-old structure that at a cost of almost $2.5 by KPC Health, owners of the hospital.
The improvements and upgrades have resulted in increasing the hospital's national hospital health care ratings and greater patient satisfaction. A number of highly rated medical specialists have also set up practices in the area and joined KPC as a result of the equipment and physical upgrades at the hospital.
Those improvements at Menifee Global located at 28400 McCall Blvd. in Sun City may be just the beginning, according to KPC Health founder and Chairman Dr. Kali P. Chaudhuri of KPC Health that owns the Hemet Global Medical Center and five others in Riverside and Orange County. At the Dec. 6 ribbon-cutting for the renamed hospital, Chaudhuri said the 35-acre campus is a choice spot for a new Sciences University and medical school with satellite offices in other parts of Menifee.
What has led to the decision to possibly build a Sciences University are the recent hospital upgrades and improvements including: an ICU remodel and nurses' station flooring at a cost of $256,000; emergency room remodel costing $144,000; second floor remodel, $288,000; medical detox unit, $360,000; operating room flooring $112,000; MP30 patient monitors $680,000; an education center, $167,000; pharmacy hood upgrade, $113,000; CCTVs and access control tied with Hemet MC, Moreno Valley MC and SNF; chiller controls, $66,800 and air handler upgrade at $51,500.